Is It Worth To Upgrade Your PS4 HDD To SSD?
Does your PS4 or PS4 Pro need an SSD? Or, in other words, is it worth upgrading your PS4 internal hard drive to an SSD? Probably. Solid-state storage, or SSD, is a fast drive that is almost always used in gaming PCs. They are also used in the latest next-generation consoles, like the PS5.
But neither the PS4 nor the PS4 Pro was so lucky. Both of these older Sony games use hard disks instead of SSDs. But hard disks and SSDs are not the same things. SSDs use faster and more reliable flash memory, while these older drives use slow 5,400rpm rotation systems.
Best PS4 Internal Storage Upgrade Options [2022]
The good news is that you can upgrade your PS4 or PS4 Pro with an internal SSD. This gives your older console a big boost in power and performance, along with other benefits. But, as with any change in technology, there are also some bad things to think about. The main one is that you need to decide which one is best for you before you decide to upgrade.
Pros & Cons Of Using an SSD in PS4
So, here we lay out the pros and cons of upgrading your PS4 hard drive to an SSD. That will help you better gauge the issue and find out whether it is suitable for your needs or not.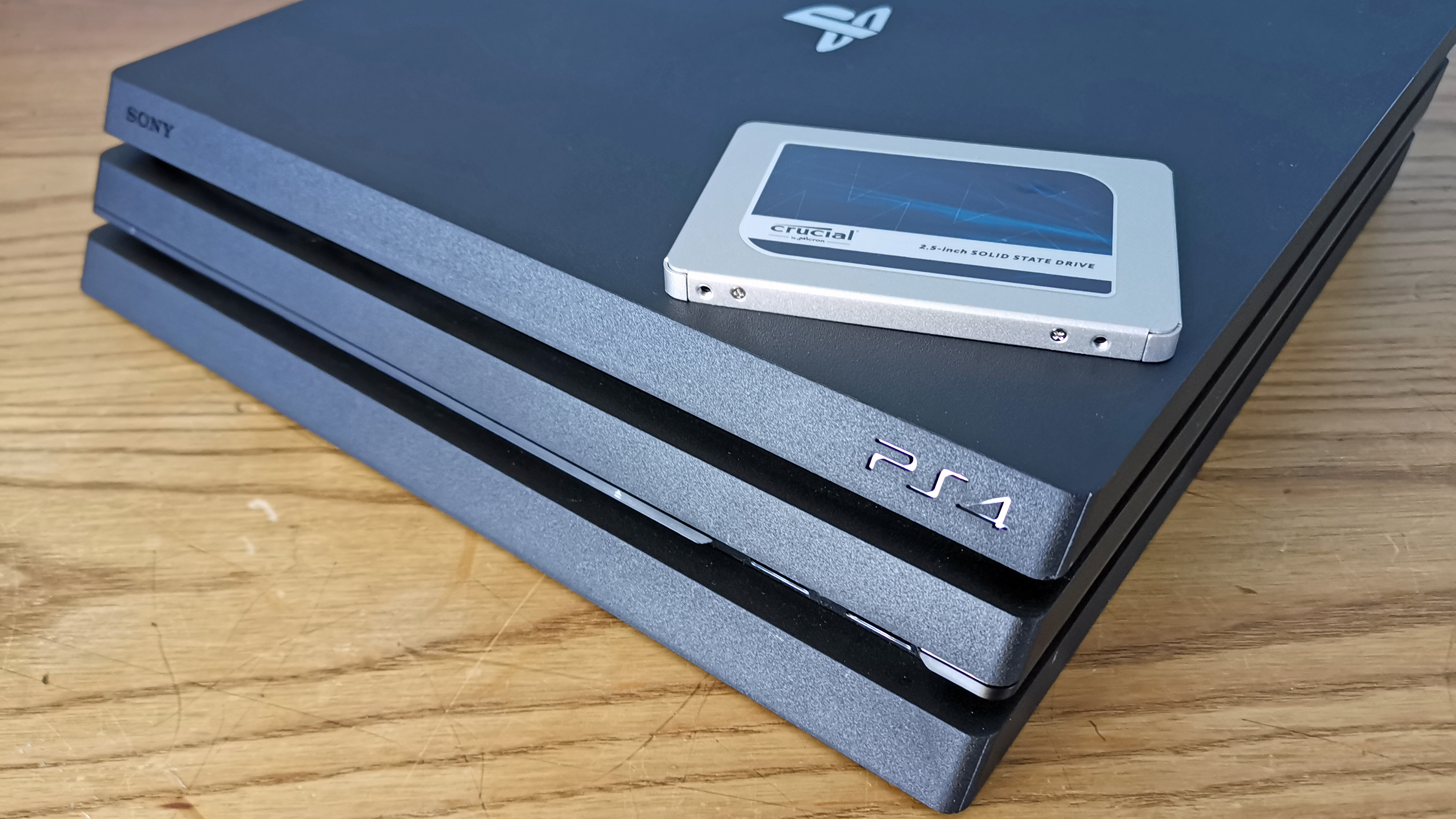 Pros
1.

Speed

When compared to traditional hard disk drives (HDD), the SSD delivers a significant improvement in performance. Hard disks rely on platters to deal with data, whereas solid-state drives employ flash memory chips. Flash memory is quick because data can be read and written in the time it takes for electrical signals to travel between chips, as opposed to hard drives, which must wait for slower-moving platters to spin.

The figures are truthful. While many of the reasonably priced, SATA-based SSDs that may be utilized inside the consoles offer maximum rates exceeding 550MB/s, the PS4 and PS4 Pro hard drives only offer read and write speeds that, at most, hover around 100MB/s. With maximum theoretical bandwidths of 300MB/s and 600MB/s for the PS4 and PS4 Pro, respectively, there is undoubtedly room for improvement in terms of storage capacity.

Your system's boot and game loading times will be faster with an SSD, and the console's menus will be more fluid. You'll see benefits in-game with fewer pop-ups and quicker texture loading; you might even notice an increase in framerate since games won't stall due to slow loading.
2.

Capacity

SSDs used to be quick but small, but thankfully, things have changed. A 256GB SSD used to cost an arm and a leg, but these days it's simple to acquire SSDs with 1TB and 2TB capacity or even larger. These capacities are comparable to several of the current 2.5in hard drive alternatives.

More space is essential because games are getting bigger, and larger capacities are competitive with the basic storage on the PS4 and PS4 Pro. The Pro has a 1TB hard drive (the 2TB console is only available as a special edition), while the 500GB drive came with the original console.

Since most PS4 consoles will still use 500GB or 1TB hard drives, adding a good SSD can speed up your game console and increase its storage capacity. You will still experience a significant speed increase even if you select an SSD that is the same size as the hard drive in your console.
3.

Reliability

In contrast to hard disks, which have moving arms and rotating platters, SSDs use flash storage, which means they have no moving components and therefore less potential for failure. Both an SSD and a hard drive are unlikely to malfunction, but an SSD will be more reliable over time. Additionally, SSDs are silent, in contrast to hard disks, which occasionally emit clicking and spinning noises.
4.

Heat

Hard disk drives use more electricity to rotate the platters, generating heat and noise. As for SSDs, since no such rotation is needed, they use less power and do not generate heat or noise.

While the PS4 console has a somewhat good ventilation system, the best thing you can do for your gaming experience is to minimize as much heat as possible. SSDs work very well inside PS4 consoles because they do not generate as much heat as a mechanical hard drive would. As a result, this will minimize the possibility of overheating and promote a cooler environment inside your PS4.
5.

Future-proofing

Although the SATA II and SATA III storage ports used by the PS4 and PS4 Pro are not particularly current, installing an SSD offers more options in the future than the console's aging hard disks. Your SSD will be quick enough to use inside a desktop or laptop once your PS4 is retired. Alternatively, you could purchase a cheap caddy and use it as external storage with your PS5 or computer. Although an SSD may initially cost more, there is more possibility for growth.
Cons
1.

Price

The PS4 and PS4 Pro's outdated storage infrastructure means you don't need to buy a newer, more expensive drive to give your console a boost, but there's no denying that SSDs may still be pricey.

A good, common 1TB SATA SSD costs between $100 and $140, and those costs rise to $200 and $300 when the capacity is doubled. A massive 4TB or 8TB drive will set you back at least $500.

These costs are not competitive with those of conventional 2.5in hard drives; if you want a 1TB or 2TB drive, you should be prepared to pay between $50 and $100. A 4TB hard drive only costs about $120. Both hard disks and SSDs have enough room to accommodate a sizable game collection, although hard disks are more economical in terms of size overall.

This won't apply to most people, but if you have an extra SSD laying around, it's definitely a major money saver.
2.

The Console's Capabilities

An SSD update will be advantageous for both the PS4 and PS4 Pro, but due to internal variances, the PS4 Pro stands to gain the most.

The SATA III storage interface on the PS4 Pro is newer, quicker, and has a theoretical peak bandwidth of 600MB/s. It also features a superior processor. The SATA II connection speed on the original PS4 is limited to 300MB/s and it has a slower processor. The top 2.5in SSDs are an excellent match for the PS4 Pro because of its peak performance, while the original PS4's connection would choke most SSDs available today.

Make no mistake, utilizing an SSD inside the PS4 and PS4 Pro will give you a respectable performance gain. Just that the PS4 Pro is the only system that can effectively make use of the speed that a new SSD offers, so the difference will be more noticeable there.
3.

Be Realistic

Your PS4 or PS4 Pro will perform better once you install an SSD, but you should limit your expectations. While installing an SSD can significantly improve your system, it won't make your PS4 as snappy or as quick to load as a PS5 or a high-end gaming PC. It is not a revolution; it is an evolution.
4.

Next-gen Console

SSDs are present in both PS5 and Xbox Series X. It appears to be a difficult proposition to upgrade the PS4 with the advent of new consoles; it may be more advantageous to save money for a new system. In fact, upgrading your PS4 or PS4 Pro is only worthwhile if you have a sizable collection of games that you intend to keep playing for the next couple of years and if you won't be purchasing the next-gen console any time soon.
5.

It may be terrible

Even though Sony officially supports upgrading your console's storage, tinkering with electronics might be intimidating, especially if you've never done it before. In addition, you may need to spend time backing up your data, removing the old drive, installing the new item, and restoring your operating system and data. It's quite understandable if you don't want to open up your priceless PS4, and Sony's consoles also offer external, USB-based storage, which is a far easier way to expand the storage on your device.
Verdict
An SSD upgrade for your PS4 or PS4 Pro is a guaranteed way to improve the performance of your system. It will boost more quickly, load games in shorter times, and fix texture loading problems in a lot of games.
Compared to hard drives, SSDs are more reliable, more durable and future-proof, and more readily available with higher capacities and more affordable pricing.
With an SSD, you'll rest your mind about many systematic errors resulted by the degradation of the PS4 stock HDD. It's well-known among savvies that SSDs have much lower failure rate than mechanical HDDs and last much longer.
But there are drawbacks. When compared to hard disks, they are still pricey, and the performance gains are occasionally only marginal. Some folks might find it more sensible to just go ahead and get a PS5.
However, upgrading your PS4 storage to an SSD is a rather simple way to improve the responsiveness of your game console if you have a sizable library of games and want to use it for a long time. If you do decide to go for it, good luck and take use of a quicker machine!